PERETO - SANTUARIO MADONNA DEI BISOGNOSI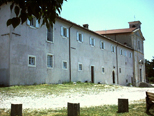 Starting from the curve of the grinding wheel along a mule track passing in front of the chapel of the Holy Trinity on the hill, elevation 742 meters, then down to the deck of the Madonna.
From there the trail climbs the ridge, winding up on the north side of Mt Serrasecca, goes along the "nzinocchiaturu u", a chapel that commemorates the place where the mule that carried the "Madonna die Bisognosi" fell; then, after a short flat stretch, climbs up to the Sanctuary to 1040 meters.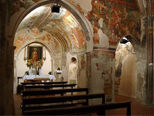 ( Length: 1 hour) : a path in the shadow of the oaks, stunning panorama including views of the Pianura del Cavaliere and Turano valley, and of the two villages of Pereto and Rocca di Botte. On clear days it is possible to see Roma and Terminillo.